Jeff Butt – Athlete
Inducted 2015
(Jeff was also inducted to the Hall of Fame as a Builder in 2015. To read about that, go here.)
Jeff moved to Saskatchewan from Newfoundland in 1996.  He had been powerlifting in Newfoundland since December 1992, and brought that passion with him to Moose Jaw.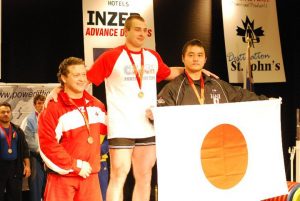 One of the most special events he competed in while living in Saskatchewan was the 2008 Open World Championships that were held in St. John's, NL.  He was a part of the organizing committee, and also a lifter at this event in his home province.  It was also where he was his first and only Open World medal in the Bench Press.
Competition Accomplishments
2 time Classic Master National Powerlifting Champion
3 time Equipped Master National Powerlifting Champion
2 time Equipped Open National Powerlifting Champion
4 time Equipped Open National Bench Press Champion
2 time North American Powerlifting Champion
4 Retired Records
Current National Classic Master Squat record holder
World Squat Bronze
2 World Bench Silver
1 World Bench Bronze
1 World Deadlift Bronze
1 World Total Bronze
Top Master lifter in 2011
Coaching / Athlete experience at World events
Open Bench Press: 
1997 Canada
2004 USA
*Athlete and assisted athletes with coaching for both.
World Games: 
1997 Finland
2009 Taiwan
*Athlete 1997 and Coach in 2009.
Masters Powerlifting: 
2001 Canada
2003 Canada
2011 Canada
*Meet Director and Coach in 2001 and 2003, and Athlete and assisted athletes with coaching in 2011.
Junior and Sub-Junior Worlds:
1993 Canada
2005 USA
2006 Bulgaria
2007 France
2008 South Africa
2011 Canada
 *Athlete in 1993 and Coach in all other events.
Open Powerlifting Worlds:
1997 South Africa
2002 Slovakia
2003 Denmark
2004 South Africa
2005 USA
2006 Norway
2007 Austria
2008 Canada
2016 USA (Classic)
*1997 and 2004 Coach, all other years as a coach and athlete, and in 2008 he was the meet Director as well.
Coaching / Athlete experience at National events
1993-1995 Athlete Open Men's Nationals AB, NS, and ON
1996 Coach Women, Master and Junior in NS
1996 Coach and Athlete Open Powerlifting and Bench Press in AB
1997-1999 Coach and Athlete at Junior, Master, Women's and Bench Press in MB, SK, and QU
1997 Coach Open Men's in ON
1998-1999 Coach and Athlete in BC and PEI
2000-2011 Coach and Athlete all events in SK, QU, NS, MB, ON, AB, BC, NS, ON, SK, QU, and PEI
2014-2016 Coach and Athlete in ON, NL and SK all events