Randy Luzny – Athlete
Inducted 2017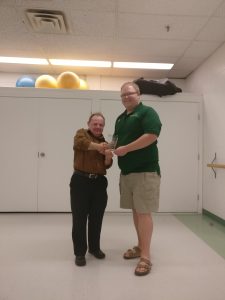 Randy began competing in 1999 as a Special Olympics athlete. What makes Randy unique is that he competed not just as a Special Olympics athlete but also as a mainstream athlete. Randy is an extremely accomplished powerlifter, competing locally, provincially and nationally for almost 20 years.
Randy has set several records throughout his lifting career. Not just Special Olympics National Records but, mainstream National Records. Randy held the 52kg National Records (now retired) for Squat (85kg), Bench Press (72.5kg), Deadlift (125kg) and Total (282.5kg). Randy currently holds the M1 and M2 59kg Classic National and Provincial Bench Press Records in 3-lift and Bench only at 67.5kg. Randy also currently holds the SPA Provincial Records in the 59kg M1 and M2 both Classic and Equipped (Squat 78kg, Bench Press 67.5kg, Deadlift 105kg, Total 245kg). These records are for both mainstream and Special Olympics. Randy's best competition lifts are: Squat 105kg, Bench Press 75kg, Deadlift 125kg and Total 305kg.

Randy's competition highlights include winning Gold in the Bench Press only at the 2007 CPU National Championships. Randy also represented Saskatchewan and the SPA at the Special Olympics Canada Summer Games.
Randy has exemplified what it means to be an athlete in the SPA with hard work, dedication, commitment and passion for the sport of powerlifting. Any who met Randy was treated with a very warm "Hey!" and usually a story. Randy has lived with Down syndrome his entire life and has not let that stop him from achieving a high level success in the sport that he loves.