Builder – Ryan Fowler
Inducted 2016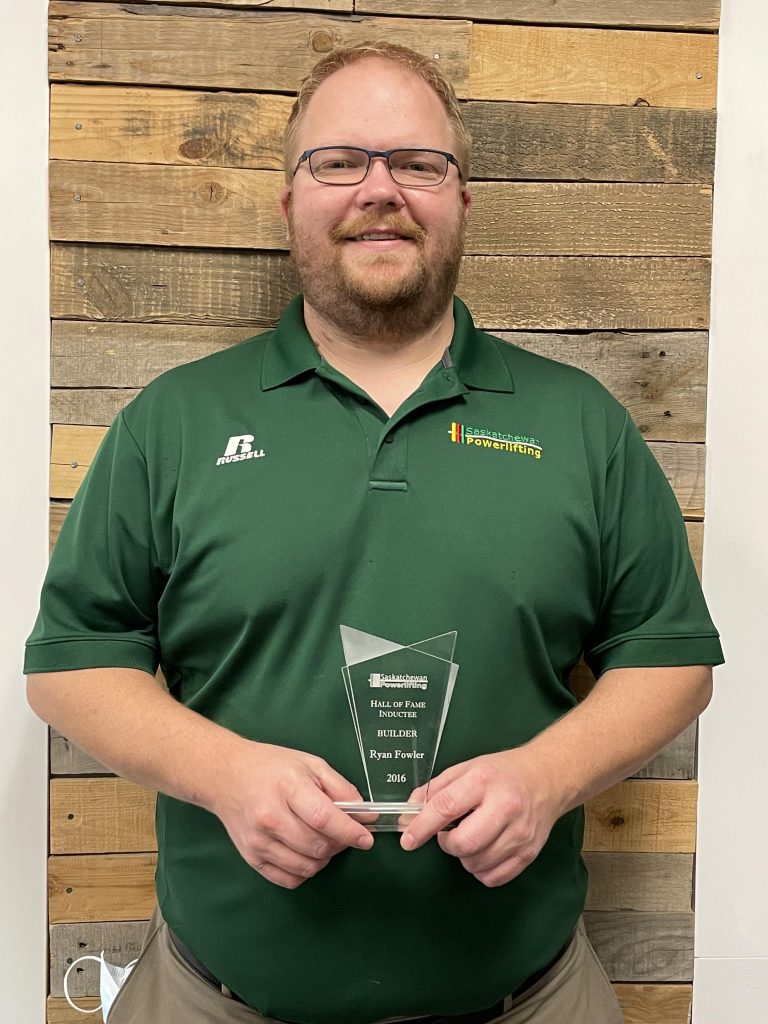 Ryan Fowler was inducted into the Saskatchewan Powerlifting Association Hall of Fame in the builder category in 2016. He did not seek re-election for president in 2021, and this write up was updated at that time.
Ryan Fowler became involved in powerlifting in 1996 after connecting with Jeff Butt through the Moose Jaw YMCA. He began to compete and become involved with the sport in 2000, competing at his first National Championship in 2002, and in 2005, he became the president of the Saskatchewan Powerlifting Association. When he took on the role of president, the SPA had 19 members in the province. With his work and the work of the boards he worked with, he grew the membership to a high of over 260 members through his leadership of the SPA. Through his presidency, he helped grow the sport by increasing the number of competitions that were run in the province each year, improved the quality of the meets as a meet director, and coached countless lifters to personal bests. During his time as president, the province hosted 53 local competitions, 16 Provincial Championships, 3 Western Canadian Championships, 2 National Championships, 1 North American Championship, and 2 World Championships. He was a co-meet director of countless of the local, provincial, and regional competitions, as well as co-meet director of the 2 World Championships, 1 North American Championship, and 2 National Championships held in the province. Ryan has served as an official Team Canada Coach at 4 international events, including two World Games. Through his gym, Olympia In Depth Performance in Weyburn, SK, he has coached many lifters to provincial, national, and world levels.
Ryan became a Provincial level referee in 2008, and became a National level referee in 2010 to be able to give back to the sport in that capacity.
Ryan has also been heavily involved at the National level in the Canadian Powerlifting Union. Frequently, the Saskatchewan Powerlifting Association has brought forward proposals to improve the running and management of the CPU. Ryan was involved in founding the Funding Committee which was tasked with working towards an NCCP aligned coaching program. Eventually, this committee transformed into the Coaching Committee which he still chairs. In this role, he worked closely with a team developing and rolling out a high quality coaching program for the CPU. He travelled across the country training facilitators and organizing program reviews.

It is without a doubt that powerlifting in Saskatchewan and Canada would look very different if it weren't for Ryan's involvement over the last 20+ years.