Wayne Cormier – Builder
Inducted 2017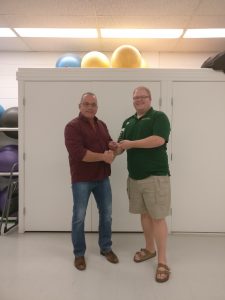 In 1989, Wayne started the Moose Jaw YM/YWCA powerlifting club.  Building on that, Wayne began the Moose Jaw Special Olympics powerlifting club in 1990.  From 1991 through 1992, Wayne served as the Saskatchewan Powerlifting Association's President.  In 1996, Wayne was the head coach of the Moose Jaw provincial championship team.  Stepping up again, Wayne led the unification of the Saskatchewan Drug Free Powerlifting Association and the SPA in 1996.  This was instrumental in setting the groundwork for where we are today. 
Wayne was not done there.  In 1997, Wayne was the chair of the Western Canadian Open Powerlifting Championship and in 1998, Wayne was the head coach of the Special Olympics Saskatchewan Powerlifting Team winning Team of the Year honours.
Wayne chaired numerous high calibre powerlifting competitions.  In 1992, 1997, 2002, and 2004 Wayne chaired the SPA Provincial Championships; in 1998, he chaired the Can-Am Police and Fire Games Powerlifting competition.  Wayne also chaired the 2001 IPF World Masters Championships receiving the 2001 IPF Administrative Pin for his efforts as well as chairing the 2003 IPF World Masters Championships.

In addition to receiving the 2001 IPF Administrative Pin, Wayne has also received the 2000 SPA Lifetime Achievement Award and in 2003, Wayne was inducted in the CPU Hall of Fame as Builder.